Our film for instrument panels are made with the same materials used by car manufacturers.
The panel is screen-printed using inks with characteristics of translucency, which facilitate the reading of the values, both day and night. Meets the standards required in the automotive world.
The materials and resist inks used, preserving its forms, for temperature ranges from -40 ° C to + 140 ° C.
The glass fibers contained in them impart excellent characteristics of diffusion and transmission of light.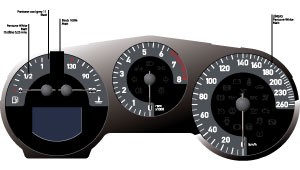 We realize:
Personalized car instrumentation film (aftermarket);
Restoration and reconstruction of the dashboard controls and special vintage car.
Application areas:
Preparatory sports cars;
Restorers car;
Decoration (advertising and not) and car customization.
For more information contact us without obligation.