At our headquarters in Thiene (Vicenza) we realize user interface panels for the electronics industry devices: control panels, keypads, front, bezel and dial of technical film support (polycarbonate or polyester production Bayer) screen printed with the traditional method.
The user interface panels are available in both rigid or flexible format and cut to size request.
We use matrices in treated polyester fabric and tensioned to more than 20 Newton, thus obtaining a high quality and complies printing precision to the narrow tolerances required by the control and command devices on which will apply our screen printed panels (graphically speaking it comes to "dress up " the car).
The our production lines for the electronics industry are:
Command fronts;

Embossed buttons;

Membrane keyboards circuit;

Pre-cut double-sided adhesive;

Protective films;

Insulating separators and ready for application.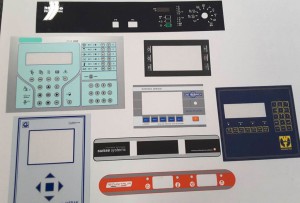 Our experience on plastic materials and metals leads us to use specific types of ink for each individual product, that allow to preserve in long time the aesthetic and mechanical characteristics.
Our products are applicable in areas such as:
Telecommunications;

Machine tools (industrial or household);

Machines for restaurants;

Measuring instruments and counters;

Electromedical;

Nautical;

Machines for Sport, Wellness and Leisure.
For more information contact us without obligation.